Revolution 2020
The year is 2005 and I have just moved to bangalore.I am not a book lover ,and I have never read any of the sidney sheldons and so on .My knowledge has been limited to comics and the tintins.
I decide to pick up a book in landmark,the book has got no reviews as of yet,but the blurb looked interesting .Something about coaching,entrance exams, iit and a love story all rolled into one.I pick it up ,start reading around 10 to get some sleep ,finish off the book at 2 in the morning without a break,in between huge bouts of laughter.The cult was born.The book receives excellent reviews from word of mouth ,media laps it up,the piracy industry laps it up .A legend is born. Five Point Someone and Chetan Bhagat has given a new face to the term "Indian Writing" .The man becomes a rockstar releases books on a yearly basis ,writes screenplay,directors copy his screenplay,movies become hit .Yet Another legend starts.You could be forgiven for thinking if the man has more legends than the Ghost Who Walks.
I am an unabashed fan of Chetan Bhagat,for quite simply he is the man who has put the Indian reading industry on the map.He writes well,He writes stories where every one of us can relate to to.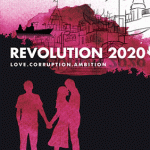 Revolution 2020 is brilliant.It is an amazing piece of story telling,I still wonder how a man who belongs to a slightly older generation,gets the mobile phone conversations between the characters perfect,how he integrates a nice political issue into a yet another love story ,on how he describes the city of Varanasi ,that we feel as though we are there,on how he brings the characters alive within our eyes.Critics can dumb them do what they want.When I sit and curl up on my bed and I want to read a fun book on a rainy day,I sure do not want to read a Midnights Children.
There are many book reviews out there ,most of them critical.Do not believe it.Read it and enjoy it.The ending is nice and quite appropriate.I now own all the copies of Chetan Bhagat and all legitimate ,not a single pirated one! .